Secrets of passing Npower 2021 Test – Mistakes to Avoid in Exam
Here are the secrets of passing Npower test and top mistakes to avoid in the exam, N-Power aptitude test requires smartness, see what you must know before batch C 2021 exam date which is now handled by National Social Investment Management System – NASIMS
Npower online test is very easy to fail and at the same time it's very easy to pass, what makes the difference is the kind of information and tutorial you receive before the aptitude test. That is knowing the  right secrets to apply and the top mistakes to avoid in the test.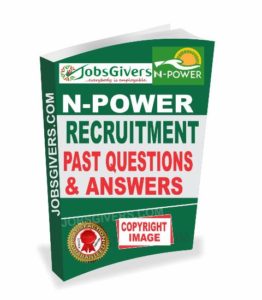 Secrets of Passing 2021 Npower Test – Why We Have This Info
Over the years in the last two set (Batch A & B) of Npower recruitment test, we have written the exam for so many candidates out of which about 90% succeeded and are currently in the N-power program.
Based on the wealth of experience we have gathered in the CBT online test of npower, we now have so many secretes of passing npower test at our disposal and that is what we want to give to you in this article: "Secrets of passing Npower Test – Mistakes to Avoid in Exam'
---
Leave the stress of job search for us, we can source and apply for any job for you; Learn More.
---
Secrets of passing Npower Test
In this article, we will only give you some tips as far as the secrets of passing Npower test is concern, but other key major secretes you need to know are packed up in our Npower exam past questions and answers material which we highly recommend that you download to know everything you need to know before the exam.
Tips to Pass N-Power Test
1). Start studying for the test now, don't wait for the exam date.
2). Ensure you write the test on a computer and not mobile phone because the storage system of npower exam portal is not design for mobile phones and tablet hence the answers you submit in your test may never get to Npower database even if it says submitted successfully.
3). It is recommended that you write npower test on your personal computer but if you must write the test in a cyber cafe, ensure you do the following before you login to write your test:
a. reboot the system to clear the public internet crumbs lingering on your selected computer
b. Clear the browser catch and cookies before writing npower test especially this 2021 batch C test. Don't forget to do this, it is highly recommended but unfortunately most cyber cafe attendants may not want to do this for you that is why you must learn how to do it your self before the test date.
4). Ensure you use Chrome or Firefox browser to write your online test – (Another secret of passing Npower test you need to know before batch C exam date )
Things to Avoid in Npower Exam
Knowing what to avoid before and during the exam is the first step of success, we will also only give you some tips here but other details are reserved for those who bought our Npower past questions material.
What to Avoid
1). Avoid writing Npower exam during the day, ensure you write the test at night when the network traffic is at the lowest level. A situation where you don't have personal computer to write the exam at night, you can visit a cyber cafe with a very strong internet connection as early as possible in the morning to write the test and pray everything works fine for you.
2). Reduce the number of time you use the backward link/button on the Npower test page when your exam is in progress. From our past experience, we noticed this usually cause network bridge and automatically submit your test.
3). Using the browser's backward arrow to go back to your previous session when writing Npower test is a NO GO AREA, avoid it completely otherwise that is the end of the exam. We advise you to use the backward arrow on the test page to go back to the previous page if necessary but like we said earlier you still need to minimize this.
4). Browser to avoid when it comes to Npower online aptitude test are: UC browser, Opera-mini, Internet explorer (but if you must use internet explorer, ensure it's the latest version otherwise it is not recommended for this upcoming Npower batch C test.
The above tips and guides for writing Npower test will be more useful for you if you get the past questions material and the other major top secret of the exam are packed up in the material. Click here to get the 2021 updated past questions.
NASIMS Is Now Involved In N-Power
Another reason it is highly recommended that you follow the guide in this article is the fact that a new body call National Social Investment Management System – NASIMS will now monitor the activities of npower so you can not afford to loose guide during the test.
Conclusion:
This article; tips, guide and top secretes of passing Npower online test is brought to you free of charge. Use it for your own benefit, but please do not digest this alone, please share this post on all Whatsapp Group, Facebook pages, twitter and any other relevant social network to help other candidates prepare well for the 2021 Npower batch C online test. Be your brother's keeper, remember Npower 2020 /2021 recruitment is real and not fake.
Click on any of the social network sharing button below to share this post.
Do you have other useful tips to pass npower exams easily that are not listed here? please share it here using the comment box below to complement our own because we certainly do not know everything so that our readers can learn more.
If you also have any question to ask us drop it in the comment box below and we will do our best to answer you.
Good luck!