N-Power Batch C 2021 Online Aptitude Test – Questions Papers
Download N-Power batch C online aptitude test questions papers 2021, this past questions and answers is a PDF compilations for 2020 / 2021 Job recruitment for batch C. If you have applied for this current Npower recruitment we advise you do not wait for the shortlisted names before preparing for the exam because Npower online aptitude test usually take candidates unaware. So download this past questions papers straightaway and start your journey into the new Batch C federal government empowerment programme. Remember National Social Investment Management System (NASIMS) has been set up to monitor the activities of 2021 npower batch C exam, so it's going to be very tough this time.
N-Power Batch C Online Aptitude Test Past Questions Papers (Why You Need it)
This 2020  / 2021 batch C recruitment applicants seem to be luckier than the previous N-power batches when it comes to the ease of writing the CBT online aptitude test. The reason is that there is already a good compilation of N-power past questions papers they can prepare with. Npower Batch B had little of this privilege while Npower batch A never had the opportunity of getting any aptitude test past questions papers material to prepare for their test because it was the first of it's kind as at then.
Npower Online CBT Aptitude Test (Our Experience so Far)
You need this N-power online aptitude test past questions papers for Batch C because we have be in this game of Npower recruitment and online screening test since it all started. Npower CBT online test is all about repetition, we know this because we have written the online aptitude test for uncountable number of candidates in the past. We now have every single questions N-power set in their exams in our record and everything is just a walk over for us.
This questions papers is loaded with details of all these past  questions ever set by Npower, hence you really need to download the PDF document to prepare for the online CBT screening test.
Procedure / Format for Batch C 2021 Exam
The format of N-power online aptitude test does not change, if you are able to get yourself familiar with the past exam format, the procedure for 2020 / 2021 batch C test is not far fetch. We have already explained this format in detailed in our Npower product page.
What do i Expect in N-Power Batch C Online Screening Test?
This N-Power batch C online aptitude test questions papers is actually compiled to answer the above questions, when you get the questions papers, that question is automatically answered as everything is well explained in the document. However, we have also done justice to that by listing out some free samples questions and answers below to enable you have idea. Remember, you might not find things easy in the test without basic computer skills.
Possible Questions in 2021 N-Power / NASIMS Test 
1). What are the teachers professional requirement by the UNESCO? 
A. Ability to do justice to the profession
B. Teaching competence and subject mastery
C.  Innovation in teaching
D. All of the above
---
2). Which one of the following is the main concept  that guide the teacher's professionalism? 
A. The professional code
B. Salaries Intent
C.  Academic Qualifications
D. Non of the above
---
3). One of the following cannot be seen as a quality of a good community health worker? 
A. Connected to the community
B. Objectivity
C.  Apathy
D. Open-mindedness
---
4). How would you describe the trend of agriculture in Nigeria? 
A. Stable and highly product across the 36 states
B. Gradually dwindling owning to the rapid shift toward oil and gas sector
C.  Continually serving as the source of income for the average Nigerian
D. 100% stagnant and unproductive
---
5). What role do you think N-Power Tax beneficiaries will play in the Nigeria tax sector? 
A. Supervisory role
B. Managerial role
C.  Restructuring role
D. Assisting role
---
6). One of the following is the PPP protocol that provides authentication, multilink and dynamic addressing?
A. HDLC
B. LCP
C. X.25
D. NCP
Answers to the Sample Questions
Q1. D
Q2. A
Q3. C
Q4. B
Q5. D
Q6. B
For more sample questions, format and procedure you can also check our Npower product page. or click the product image below to see more sample questions.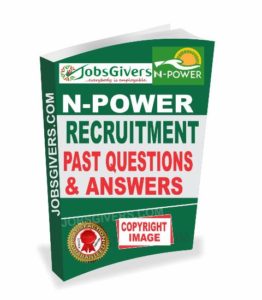 ---
Our Candid Advice:
Stay away from the free N-Power past questions and answers people are posting all over the web, they are not the actual Npower exam questions at all, those free material will only guide you wrongly which is dangerous for your preparation for the upcoming batch C online test.
---
Can i Get Free Download?
So much resources have been put in place to make this Npower questions papers available for batch C to write their online CBT aptitude test, hence it is not for free download. We charge little token for the PDF document to enable us keep this blog afloat.
---
CLICK HERE TO DOWNLOAD THE MATERIAL
---
If you have any comment or question about the new Npower 2021 CBT online test for batch C, you can drop your comment in the comment box below and we will assist you in the best way we can. Don't forget this year exam will be very tough as Npower now collaborate with Remember National Social Investment Management System – NASIMS.
Good luck.